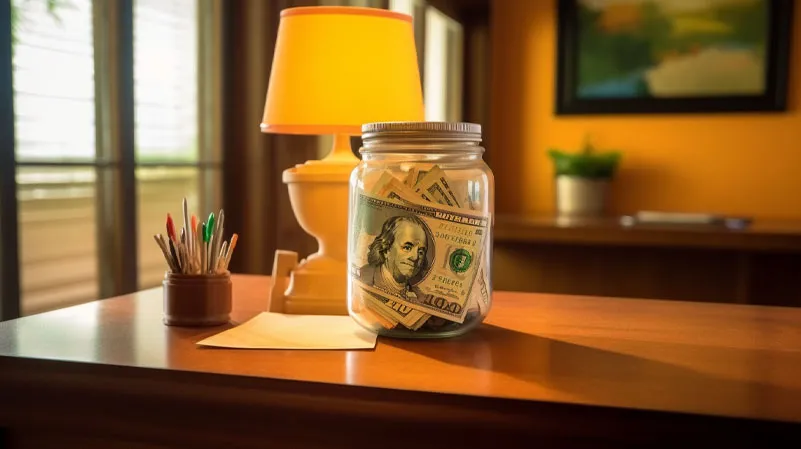 Tipping is one of those things that can cause anxiety and uncertainty if you are not familiar with the norms, cultures and traditions. This is especially true when you are traveling to a remote place that you have never visited before – say Tanzania.
We have created our handy Tanzania Tipping Guide to help answer some of the most common questions we get from our guests. We update it from time-to-time to incorporate more answers for questions our guests have asked.
 Let's get straight into it.
#1 Is tipping mandatory on a Tanzania Safari?
No. Tipping is not mandatory in the Tanzanian service and tourism industry. However, it is a bit customary. It is seen as a way to show your appreciation for the services provided. However, whether you tip or not should come down to your level of satisfaction with the service, you should never be forced into a situation where you feel you absolutely have to tip.
Our view is that tips, when deserved, can help boost the confidence of the staff and validate the care and attention that they provide.
Simplified rule:
If you are satisfied and want to tip, absolutely do so.
If you aren't satisfied, it is ok to not do so.
#2 Which is better, personal tips or a tip jar?
Most camps and safari lodges and camps have a community tip jar at the reception. On balance, we find that these jars have a greater common good since a successful rendering of a service often involves a lot of staff that you will likely never meet or see – the background team.
Tip jars ensure that your tip and appreciation go to everyone that made your service so great.
However, you are always welcome to tip individually as well. If you do want to tip a particular team/staff individually then you certainly can. It is NOT frowned upon in any way. E.g. a helpful porter, a dedicated waitress.
Also, in some cases, there are no tip jars, in which case it is up to you if you want to tip individually. E.g. Your safari driver-guides.
#3 What is the right time to tip?
The right time to tip comes down to your own personal choice: whether you choose to tip individually or in a tip jar.
At camps and lodges
If you are tipping individually, it is perfectly acceptable to tip each time a staff member serves you, e.g. porters, waiters/waitresses. It is also acceptable to tip a staff member individually at the end of your stay; however, keep in mind that sometimes it may be difficult to locate a particular staff member at the end.
If you are tipping in a tip jar, the standard practice is to tip during checkout.
For your safari driver-guides
When it comes to tipping your safari driver-guide, the customary practice is to at the end of the safari, as you bid farewell. Not only does this allow you to assess the overall quality of their service but also is seen as a parting gift.
#4 How much should I tip?
There are no set rules or expectations of a particular % amount in Tanzania. It is left to you to decide what you feel comfortable with. Our guidelines may help you determine the appropriate amounts in some situations.
If your expectations have been exceeded, feel free to go above the guidelines. If you are not,
Tip: For ease of tipping, we recommend carrying some loose change with you, either one-dollar bills, or equivalent in the local Tanzanian currency. You can also carry Euros or Sterling Pounds, both are generally accepted – just keep an eye on the currency conversion rates.
Always remember, tipping is a personal decision, and the amount should be based on your satisfaction and financial means.
Tipping your safari driver-guides
Small Group Safaris, between 2-4 people
You may tip between USD 10 and USD 20 per traveler, per day.
Large Group Safaris, more than 5 people
You may tip collectively between USD 30 to USD 40 per group, per day.
For half-day safaris and tours, you may tip half the suggested range. Tips to Safari Driver-Guides are usually given at the end of the Safari when bidding farewell.
Tipping staff at camps and lodges
You may tip between USD 2 and USD 4 per traveler, per day – at checkout if you are tipping in the community tip jar, or you may also tip a similar amount individually to help and support staff that have served you personally during your stay.
Tipping Staff at Restaurants
Tips of between 3-5% of the total bill are considered normal, whereas tips of about 10% of your bill would be considered very generous. If you are paying by card, and the establishment does allow you to process a tip payment, then you can do that as well.
Tipping Porters
Hotel and airport porters may be tipped USD 1.00 to USD 3.00 either each time you happen to use them or in general upon checkout (if part of a Camp or Lodge).
Tipping City/Airport Transfer Drivers
Tips for transfers are not common and not expected. However, if you do feel like giving a tip on a private city transfer then you may tip between USD 2.00 and USD 4.00 per transfer depending on the distance and time taken.
Final Thoughts?
While this Tanzania Tipping Guide is designed to help you get a starting point, it is by no means cast in stone and you may use your own experience and you own good judgement to tip, or not to tip, the way you deem reasonable.
As an important reiteration, you should never be made to feel pressured into tipping. If you are ever in such a case then engage your safari guide, or better yet your safari operator, and bring up the issue so that it can be worked on.